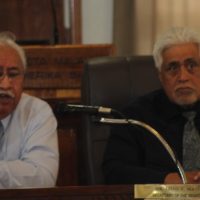 While the Director of the Office of Vocational Rehabilitation Poumele Pete Poumele was not on the list of directors whom Human Resources Director Mrs. Eseneiaso Liu said are slated to receive salaries of $75,000 in the new fiscal year, the governor's executive assistant told lawmakers that Poumele's recommended salary in the new fiscal year is $75,000.
But the Office of Vocational Rehabilitation's budget lists the director's salary for the new fiscal year at $65,000, which is no change from his current salary.  The Office of Vocational Rehabilitation is a division of the Governor's Office.
Senators Magalei Logovii and Tuaolo Fruean said the salaries approved in the budget cannot be changed. Once the budget is becomes law, it cannot be changed by anyone.
Tuaolo pointed to the case of the Director of the Office of Disaster Assistance and Petroleum Management Alfonso Pete Galea'i, whose current salary was listed in the budget at $75,000; but when he was asked, Galea'i said his current salary is $65,000. Galea'i told the budget hearing last week that the budget was incorrect in listing his current salary at $75,000.
He said his salary has been $65,000 since he started and believes he deserves an increase in pay after 7 years.
The governor's Executive Assistant Iulogologo Joseph Pereira said that the $75,000 for the Director of Voc-Rehab is the proposed salary for Fiscal Year 2020, which is at the discretion of the governor.
He said if there's an issue with funding, they will come back to the Fono to seek additional funding.  He also told lawmakers that the Budget Director has authority to move budget items of not more than 25% for other purposes.