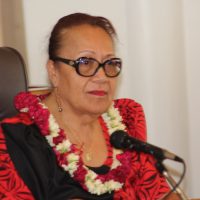 Review of the Department of Human Resources proposed budget for Fiscal Year 2020 last Friday revealed that 12 directors are poised to receive salary increases.  However the salary increases are not reflected in the budget document.
Senator Tuaolo Fruean said at the outset of the hearing with Director of Human Resources Eseneiaso Liu that its inappropriate to have the Governor's Chief of Staff earning a salary of $75,000 as proposed in the Fy2020 budget while cabinet members like the Treasurer and Attorney General earn $73,000,.
The week before the budget hearings started KHJ News had received information that select directors were getting salary increases in the new fiscal year.  But the only persons who knew about the increases were the Governor and Director of Human Resources.
Tuaolo asked Mrs Liu if there are pending salary increases for directors and she answered yes,  She stated that the governor is proposing salaries of $75,000 for some directors, those overseeing large departments.
Tuaolo asked her to identify the cabinet members who're in line to receive an increase in salary.
The following are directors whom Mrs Liu identified however the FY2020 budget doesnt show the $75,000 salaries, but lesser amounts ranging from $70,000-$73,000.
The cabinet members listed in the budget earning $73,000 are Secretary of Samoan Affairs, Attorney General. Commissioner of Public Safety, Treasurer, and directors of Education, Public Works, Port Administration, Commerce, and Human and Social Services.
Earning $70,000 are the Budget Director and Director of Human Resources.
Senator Tuaolo asked why the salary increases are not shown in the budget but hidden.
According to Mrs Liu it was her understanding that directors should have included the salary hikes in their budget submissions.
On the first day of the budget hearings it was discovered that key staffers in the Governor's Office were listed as having salaries of $75,000 in the current fiscal year when that was their proposed salary for FY2020.
So with this anomaly in figures in the budget, its any ones guess what the real salaries in the new fiscal year would be.