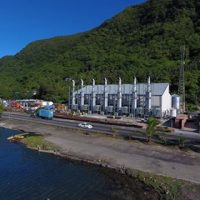 The cause of the extended power outage today, which forced the early closure of schools, stopped banking, and government departments, stores and homes to operate in the dark, was human error.
Power went off around 10:30am  island wide and was not restored until 12:45 pm.
Executive Director of ASPA Wallon Young explains the cause of today's outage.
Play Audioblackout-Monday
Young said that the weakness with the new power plant is that when air seeps into the fuel tanks it takes a long time to get rid of the air.  And that's what happened today
He said it took  about three hours to rid the fuel tanks of air and start pumnping fuel to the generators again.
The executive director said with the installation of three new generator sets at Tafuna, and replacement of an aging switchboard that was damaged last night, residents should not experience further power outages.
Because water pumps operate on electricity, the power outage left schools and offices without water and most schools released students early.  Some departments also called it a half day today.
ATMs and merchant terminals were also affected by the power outage outage.