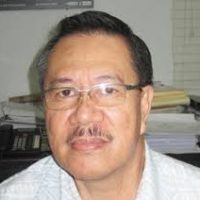 Tutuila island was in total darkness last night, the first island wide power outage in a while.  With power out homes were also without water as water pumps need power to operate.
Executive Director of ASPA Wallon Young responding to KHJ News questions said a lightning surge struck the main 13.2KV switchboard at the Tafuna Plant around 10:35 PM on Sunday night.
The strike caused the surge arrestors protecting the 13.2KV switchboard to rupture, resulting in the cascade tripping of generator sets at both the Tafuna and Satala power plants.
He said the surge also caused the failure of potential transformers on one of two 13.2KV Tie Line circuits at the Tafuna plant.
The electronics on two 34.5KV vacuum switches for two major Tie Line transformers at Tafuna substation were also damaged.
Young said ASPA technicians and engineers worked throughout the night to repair the damage switchgear at the Tafuna plant and were able to restore power to all customers on the Western half of Tutuila by 4;20AM on Monday morning.
Immediately after the blackout, Plant Operators proceeded to disconnect the Satala plant from the Tafuna plant.
The Satala plant was restarted at 10:50 PM and Feeder-8, that runs from Satala to the LBJ hospital was energized first.
Feeder- 3 supplying power to Fagasa and parts of PagoPago and Feeder-1 supplying power to the Eastern side were both energized at 11:00PM.
The STP and StarKist Feeders were energized at 11:16PM.
ASPA technicians and operators were also able to energize Feeder-5 to supply power from the Tafuna plant to LBJ Hospital by 1:45AM
Feeder-6 was restored at 3:00 AM followed by Feeder-9 at 3:45 AM.
Feeder-10 was the last Feeder to be restored – at 4:20AM.
Mr Young said the damaged switchboard at the Tafuna Plant was installed in 1972 and ASPA hopes to replace this 13.2KV Switchboard by December 2019.