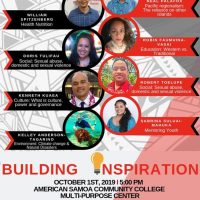 American Samoa will be hosting it's first ever TED (Technology, Entertainment and Design) Talk next month.
The symposium will be held at the ASCC Multi-Purpose room on Oct 1st at 5PM.
A myriad of professionals will be speaking on a range of topics and the event will be recorded and posted online and archived for the world to see.
Speaking on the Samoan Sunrise Show about the event were Va'a Tofaeono of the Community Cancer Coalition's INSPIRE Grand and Luisa Kuaea, volunteer for TED-X-Pago Pago
Play Audio
Speakers for the Ted Talk will be Doris Tulifau, Ken Kuaea, Will Spitzenberg, Sabrina Mahuka, Kelly Tagarino, Robert Toelupe, Robyn Faumuina and Neil Palifax