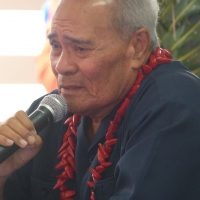 Three members of the Board of Trustees of the American Samoa Government Employees Retirement Fund are being re nominated for Fono confirmation.
They are Treasurer Ueligitone Tonumaipe'a, Senator Tuaolo Manaia Fruean and businessman Tony Togiai.
Governor Lolo Moliga said in a July 24 letter to Senate President Gaoteote Palaie that Tonumaipe'a is being re-nominated for a term of four years.
"His membership on the board," said Lolo, "is crucial given his position as the Treasurer of the American Samoa Government which allows for arms length collaboration between the government and the Board. "
Lolo said Tonumaipea's extensive background in accounting makes him a great asset in ensuring full accounting of all pension plan finances and assets.
Of Tuaolo the governor said his vast and pervasive experience on business, social, political and economic matters gives the board a broad perspective given his demonstrated wisdom in understanding the "big picture."
The governor added that Tuaolo provides the link between the board's work and the legislature through instilling full awareness of the Board's investment program.  Tuaolo is being nominated for a four year term.
Regarding businessman Tony Togiai, Lolo said as a business owner, he brings his management and administrative experience to effectively address the business of the Board. Togiai is also nominated for a four year term.
The governor asked the senate president to "please expedite the confirmation process to ensure that the work of the board is not compromised by continuing to have expired membership serve on the board."
The other members of the board are Vaanatiu Iafeta Tofala, Maaelopa Bob Tuiasosopo and Aloma Langford.