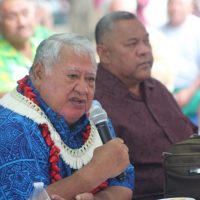 Samoa Police have confirmed that they are investigating an alleged plot to assassinate Prime Minister Tuilaepa Sailele Malielegaoi.
Police Commissioner Fuiavailili Egon Keil confirmed with the Samoa Observer Newspaper that his office is carrying out the investigation but declined to comment further.
The newspaper reports that the Laulii village council is allegedly helping Police with their investigations.
The village mayor, Fa'alogo Sasauli Moli, said the village council met on Monday to discuss the matter.
It's alleged that the man under investigation is married to a woman from Lauli'i and they live there.
The mayor confirmed the council is cooperating with the Police investigation and are concerned that it is bringing the village into disrepute.
Lauli'i village, on the east coast of Upolu island, was the same village last year where youth set up a road block and threatened motorists.
More recently, it is the village where the decomposed body of an infant was discovered floating in the sea.
UPDATE
The high ranking chief of Lauli'i village in Samoa, Leniu Vainiu Te'o, has spoken out on the alleged plot to assassinate the Prime Minister, Tuila'epa Sa'ilele Malielegaoi.
Three people are involved in the allegations – two from Lauli'i and a man from another village married to a woman from Lauli'i.
Leniu said the trio were handed over to the police two days ago after the village council met to discuss the plot allegations on Monday.
He said they then instructed the three people implicated to be brought to the council for questioning after which police were called in.
Leniu is calling on other village councils to support the police and the government's effort to eliminate criminal activities that would disrupt the peace of the country.
Meanwhile the police are still carrying out the investigation and no one has yet been charged.
The Lauli'i village chief said the firearms that were allegedly to be used to carry out the assassination have been found in the village.