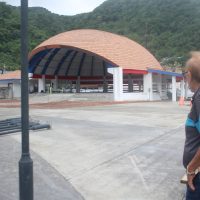 Governor Lolo Moliga says improvements being made in Fagatogo are in response to requests from some of the chiefs and church leaders of the village. He says Fagatogo still has ownership of their malae.
The governor said there are very few government activities now taking place at the Fagatogo malae and the play courts and parking which are part of the Fagatogo Pavilion Rehabilitation project are mainly for the use of Fagatogo residents.
He told KHJ News that there have been requests from village leaders and church ministers of Fagatogo for these facilities for the village.
He said Fagatogo will also have ownership and play a key role in providing security for the courts, the renovated bathrooms and the pavilion.
The governor said churches and the village will have the use of these new facilities for their activities
He pointed out that the government is happy that the village is providing its lands for improvements that will benefit the village and also the territory.
Lolo said part of the improvements will see the reconstruction of the old Communications Building next to the malae which will be used by the Judicial Branch.  Roads and vacant lots of the village will also be paved.
Members of the Faagata family protested the paving of part of the malae saying it has desecrated a historical part of their village, the Malae o le Talu.
The governor said that the Fagatogo malae is still in the hands of the village but the facilities are in response to a request from village leaders and church ministers, for the benefit of residents.
He said the keys will be kept by the church ministers.