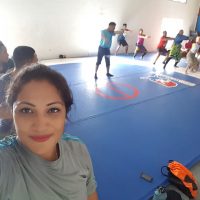 Non-profit organization, Pacific Island Foundation, partners with choreographers from Samoa for a dance production of the oft-told legend "The Turtle and the Shark".
The foundation enlisted accomplished choreographer Ms. Eterei Maiava Salele of Samoa, founder of Le Tiumasalasala Dance Theater and colleague Mr. Ben Lelevaga to train local dance students for the special production.
The Le Tiumasalasala Dance Theater took center stage at the opening and closing ceremonies for the 16th Pacific Games to produce famous legends in dance.
Play Audio
Four weeks of rehearsals will culminate in a full-costume presentation; the performance is scheduled for August 31 at the ASCC Multi Purpose Center.
For more information, call the Pacific Island Foundation at 252-5569.