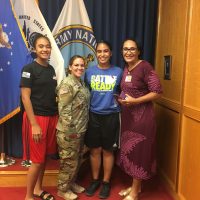 Oregon Army National Guard (ORARNG) and Southern Oregon University ROTC program have partnered to come to American Samoa to bring education benefits to local students, allowing them to go to Oregon to attend college with 100% free tuition.
The program started in February of last year and is enjoying great success.
Soldiers automatically get the in-state tuition cost as well as Federal Tuition Assistance, which is the same as all other branches and offers about $4,000 per year to help with tuition.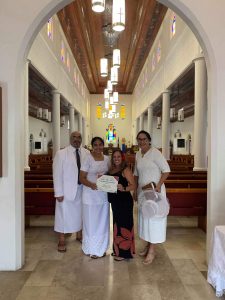 In addition to that the Governor of Oregon has written a bill to cover the remainder of soldiers' tuition while attending college in Oregon, giving them 100% State Tuition Assistance (STA).
Soldiers on the program will also get the Montgomery GI Bill, giving them a minimum of $384 per month, on top of their drill pay to help with books and living expenses. This allows them to have 100% of their tuition paid for, free housing and money to help live on.
SFC Sheri Hoddle, the Oregon Army National Guard Recruiting and Retention Officer said if soldiers are participating in the ROTC program and on track to get a scholarship from ROTC they also receive housing asssistance.
Once soldiers qualify for the ROTC scholarship they will then be awarded 100% tuition and fees, a monthly living stipend of $420 per month for living expenses, $1200 per year for books and their drill pay goes up to E-5 pay.
SFC Hoddle said one of their soldiers from American Samoa, Morgan Ulu of Fagatogo, recently applied and competed for  a 4 year Minuteman Scholarship.
Oregon offers only four of these 4 year scholarships each year making it very competitive.
Morgan enlisted into the Oregon Army National Guard on June 17th and submitted
her application for the scholarship prior to the August 1st deadline.
SFC Hoddle said, "We had a large number of applications and she was 1 of 8 applicants selected for the second phase, interviews.
"Morgan, while traveling with The Native Youth Community Adaptation and Leadership Congress in Virginia, conducted her phone interview. Morgan impressed everyone on the panel and she placed 2nd out of the 4 scholarships given."
According to SFC Hoddle Morgan missed 1st place by only 2 points out of 800.
"We could not be more proud of Morgan and can't wait to see what she will accomplish on her journey in the National Guard and becoming a leader of Soldiers through ROTC."