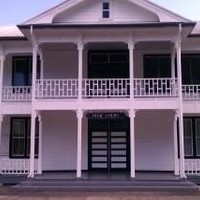 Private Attorney Lornalei Meredith  has been appointed as Independent Prosecutor in the criminal case against former Director of Youth and Women Affairs Jonathan Fanene.
Fanene faces 8 felony counts and five misdemeanor charges for allegedly assaulting his wife and sister, holding his wife against her will and for possession of unlicensed and prohibited firearms.
Out on bail of $100,000 he was removed from his cabinet position by then Acting Goevrnro Lemanu Peleti Mauga shortly after he was charged in early June.
At a hearing last week Independent Prosecutor Meredith asked for a continuance citing she needed more time to review the case and conduct investigations.
The motion was granted by Associate Justice Fiti Sunia.
In other developments, the court has granted a motion by Fanene to transfer the case to the Family, Drug and Alcohol Court.
Defense Attorney Marcellus Uiagalelei argued that the case was filed as a domestic dispute and  involves a family situation which needs to be addressed in the Family, Drug and Alcohol Court.
Hearings in the FDA court are not public.
The court granted motion to dismiss a temporary protective order against the defendant.