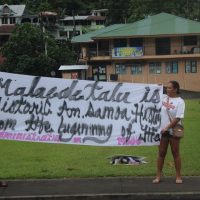 Play Audio
Members of the Faagata family of Fagatogo led by a granddaughter of the late Sen. Faagata Mano,  Macy Faagata Woo Ching, held signs and called out, "Save Malae o le Talu"while cars honked in support this morning.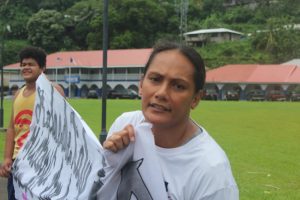 It was a peaceful demonstration against what the protestors said was the "desecration" of the Fagatogo malae, which they regard as a sacred historical place not just for their village but for American Samoa as well.
Joined by children as young as ten, Ms Faagata Woo Ching said their village was only informed that repairs will be done to the Fagatogo Pavilion, but now a good section of their malae has been cemented and their demonstration is an effort to stop the paving and restore their village malae.
Play Audio
The only adult who showed up while KHJ News was at the site was Herman "Popeye" Thomsen. High Chief Pulu Ae Ae Jr of Pago Pago joined later.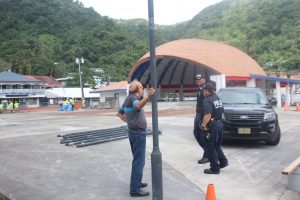 About 15 minutes after the demonstration started, a police vehicle arrived and officer Annie Coffin told Mr. Thomsen to please come to the police station and explain what the demonstration was about to the Commissioner's Office.
Coffin and another officer also told the young demonstrators to move back from the sidewalk.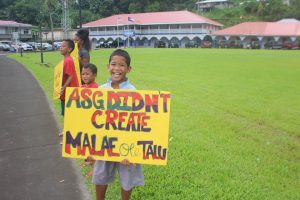 KHJ News understands that the plans drawn up by Public Works for the Fagatogo Pavilion Rehabilitation includes play courts and parking, which are to be used by the village.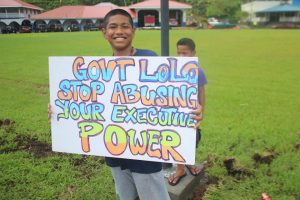 The contractor for the project is Pentagon Samoa Construction and the job includes the extension and reroofing of the pavilion, renovations of the bathroom facility next to the pavilion, and construction of the parking and play courts.
The project is funded by the Community Development Block Grant Program which is under the Department of Commerce.