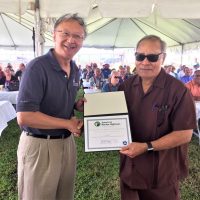 At Friday's cabinet meeting hosted by the Department of Port Administration at Pago Pago International Airport, an official of the US Department of Transportation presented a certificate of designation for American Samoa's Inter- Island Ferry Service.
The designation of Marine Highway Route and Designated Project allows Port Administration to seek funds to advance commerce activities on waterways.
Governor Lolo Moliga was presented the certificate of designation by Eric Shen, Director of the US Department of Transportation Maritime Administration, Mid Pacific Gateway Office.
Play Audio
Photo: Governor's Office