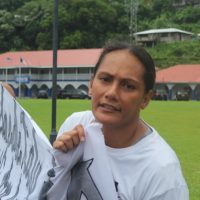 Another peaceful demonstration by Fagatogo residents against the paving of a part of the Malae o le talu  is planned for tomorrow afternoon (Tuesday) according to the organizer Macy Faagata Woo Ching.
The granddaughter of the late Senator Faagata Mano, led a group of family members, nearly all young people who carried signs and called out help us save our malae.
Faagata Woo Ching said Fagatogo residents have messaged to say that they want to be part of the demonstration but they are working people and have asked to stage another demonstration tomorrow afternoon.
She said, "We will gather at the malae at 3 pm tomorrow and will begin our peaceful protest at 3:30 pm."
High Chief Pulu Ae Ae Jr of Pago Pago  joined the demonstration and held a sign saying, "Gov Lolo stop abusing your executive power." Other signs said, "ASG didn't Create Malae o le Talu, "Save Malae o le Talu, "My Iseula , Help save our Malae ole Talu, Fagatogo.."
Passing motorists honked to show their support for the cause.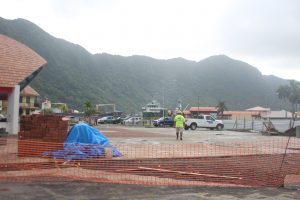 Faagata Woo Ching said she was saddened that none of the Fagatogo matais joined them but was grateful to High Chief Pulu for his support.
Pulu said he had been off island for a few weeks and was shocked when he returned to see the east end of the malae being paved.  He said the malae is the focal point and heart of a village, a treasure that is treated with respect and honor.
He expressed sadness that the leaders of Fagatogo are not acting to preserve their malae.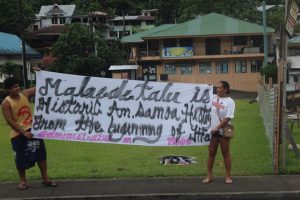 According to Pulu he tried to see Governor Lolo on Friday to discuss the paving of the malae but he was told that the governor was holding a cabinet meeting at the airport.
Also at the demonstration this morning was Herman Popeye Thomsen.
Ms Faagata Woo Ching said all they were told was that the Fagatogo Pavilion was being repaired but nothing was said about paving the malae.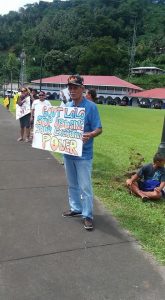 Its understood that the paved section will be used as play courts for the village and also parking.
Faagata Woo Ching said there are already play courts near the fautasi shed for their village youth.
They want Malae o le Talu to be returned to the way it was.
Play Audio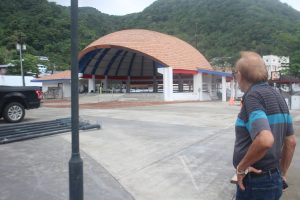 The Fagatogo Pavilion Rehabilitation is funded under the Community Development Block Grant Prifram and the contractor is Pentagon Samoa Construction.  The job includes extension of the pavilion, replacing the roof, renovations of the bathroom facility next to the pavilion and construction of the play courts and parking.