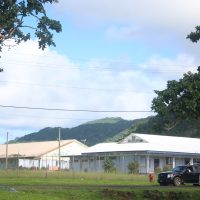 Another inmate escaped last Thursday night.
A resident of government housing next to the Territorial Correctional Facility said while his family was enjoying their evening meal, his daughter noticed a young man walking towards their home and alerted her father.  At that point the person ran off.
The resident said  he went outside and checked the  grounds and buildings and the individual was nowhere to be found.
Not long after that correctional officers arrived and searched the area obviously looking for an escapee.
The resident said that the escapes are occurring frequently and should be a matter of extreme concern for all residents of American Samoa.
A relative of an inmate confirmed to KHJ News that an inmate did escape Thursday night but is now back behind bars.
Sources said the escapee returned on his own Saturday.
Again there was no public notice issued about the escaped inmate.