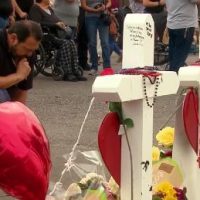 Flags in American Samoa and across the United States and all its embassies and installations around the world are flying at half staff in remembrance of those who were killed in mass shootings in Dayton, Ohio and El Paso, Texas over the weekend.
Governor Lolo Moliga ordered in an August 4 memo, "Pursuant to proclamation by the President of the United States, the flag of the United States shall be flown at half-staff until sunset, Thursday, August 8, 2019 as a sign of solemn respect for the victims of the acts of violence perpetrated in El Paso, Texas and Dayton, Ohio on August 3, 2019, which up to this point has resulted in the loss of 29 lives, with dozens wounded.
"As we reflect on the loss of lives in these two American cities, and consider the impacts on the affected survivors, let us  each take a moment to thank our God for the diversity that is American Samoa and for His continued blessings on our people and society."
Congresswoman Aumua Amata also issued a statement about the mass shootings,
"Our hearts are deeply saddened by the terrible mass shootings in the United States over recent days. The news is so tragic and overwhelming that it reaches thousands of miles to burden our people in American Samoa.
"We pray in this time of sorrow for the people of our country, that God will guide our nation's leaders, and specifically the national discussion that is taking place.
"We pray that these national debates over policy would be done in such a way to encourage peace among us all and be conducted in wisdom.
"We pray that people of our country would come together and not turn against each other in anger, blame or despair.
"Our thoughts and prayers for comfort are with these many families experiencing extreme loss and suffering."