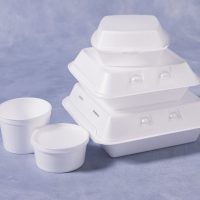 The Director of the American Samoa Environmental Protection Agency, Faamao Asalele Jr., remains hopeful that a bill to ban imports of styrofoam products will be introduced in the current session of the Fono.
After discussions with the Chamber of Commerce as well as the public concerning the proposed ban, a draft bill was amended and submitted to the Governor's Office to be presented when the Fono reconvenes from its current recess,
ASEPA is continuing public outreaches to explain the dangers of styrofoam products, how the ban will be implemented, alternative products and also garner thepubloc's  input on the proposed legislation.
This weekend the agency will have presentations for the Church of Jesus Christ of Latter Day Saints.
Asalele says there has been positive feed back from businesses and community groups that have attended meetings on the styrofoam ban proposal.
Another encouraging sign for ASEPA is that some businesses are already making their own efforts to reduce or eliminate styrofoam use.
McConnell Dowell for example prohibits the use of styrofoam products on its premises.
Some restaurants are also using paper straws and paper products instead of foam.
The ASEPA director who attended the Pacific Games in Samoa as a spectator says he was impressed with the ban on single use plastics during the Pacific Games in Samoa.
He said perhaps the territory can pursue the same goal but their first pripority now is to shore up support for the proposed ban on imports of styrofoam products.
ASEPA says that styrofoam products like plates, cups,  egg cartons and the like contain polystyrene which has been linked to cancer. In addition Styrofoam is not biodegradable and takes up a lot of space in our landfill.
The bill proposes a one year lapse from when the bill is signed into law and when the ban is enforced so as to give businesses enough time to get rid of their styrofoam stocks and order alternative products.