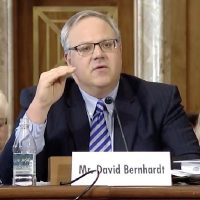 Secretary of the Interior David L. Bernhardt will lead a U.S. government delegation to the Post Dialogue Pertners meeting at the Pacific Islands Forum meeting in Tuvalu next week.
The US delegation includes senior officials from the White House, Departments of State, Defense, Interior, Indo-Pacific Command, the U.S. Coast Guard, the National Oceanic and Atmospheric Administration, and the U.S. Agency for International Development .
The Pacific Islands Forum (PIF) Leaders Session with Forum Dialogue Partners is slated for August 16,.
Secreary Bernhardt said, "It is a privilege to lead the United States delegation as a Forum Dialogue Partner to meet with the Pacific Island leaders at the 50th Pacific Islands Forum in Tuvalu
*As President Trump emphasized in his recent meeting at the White House with the presidents of the Federated States of Micronesia, Marshall Islands, and Palau, stability, security, and prosperity in the Pacific region is important to the United States and Pacific Island nations.
"Through the important historical relationships we have with the freely associated states, and ties in the Pacific through the U.S. territories, and the state of Hawaii, the United States maintains its stance to support and respect Pacific Island nations in their efforts to protect their political and economic sovereignty."
According to a statement from DOI, the Pacific Islands and the United States share a vision of a free and open Indo-Pacific region, and the high-level participation by the United States as a Forum Dialogue Partner, led by Secretary Bernhardt, highlights the nations commitment to the Pacific Islands.
The United States is focused on advancing regional order based on respect for sovereignty, the rule of law, and the principles of free, fair, and reciprocal trade.
At the PIF, Secretary Bernhardt will present formal remarks on behalf of the United States to thePacific Island leaders on issues of regional and global importance, including regional security cooperation, the global DPRK pressure campaign, resilience to environmental challenges, combating illegal fishing, and sustainable development. In addition, the Secretary will hold multiple bilateral meetings with Pacific Island leaders.