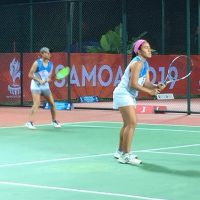 From the Pacific Games, our women's tennis players have remain undefeated and have advanced to the semi finals.
Charity Sagiao and Kalani Soli have won all their three matches since the start of competition. Yesterday they both beat their Fijian opponents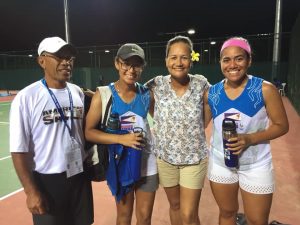 In soccer, our women's team dug their heels in and defended like their lives depended on it to hold on to a 0-0 draw against hosts Samoa yesterday.
The team had a lot of supporters at the field cheering them on at the Toleafoa JS Blatter Soccer Field in Tuanaimato.
The supporters included made the American Samoa delegation of athletes and coaches, as well as families of the players from Samoa and back home.
With the backing of a good number of supporters, Rayxena Fomai led the way with great goalkeeping, stopping attack after relentless attack, and coming out of her box to attack the ball when needed. But it was a team effort in ensuring they earned at least a point in the competition, with the defenders and midfielders all working together in defense.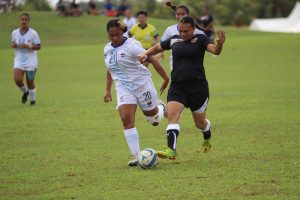 Beulah Oney, the team's captain, worked overtime for the team, playing midfield and then dropping back as a defender to help the back four repel Samoa's attacks. Elcy Lui also played a similar role as Oney, plus going on the attack as one of the team's most potent weapons in that regard.
But the star of the show was Fomai, diving left and right to stop shots, leaping to high balls and then streaking out to close down on attackers.
Her performance earned her new fans from other countries watching the battle of the two Samoa on the soccer field.
Head Coach, Ati Faamau-Samuelu was emotional after the game.
"My girls gave 110 percent out there today, it was their best performance out on the field and I'm so proud of them," she said. "It was very emotional at the time, but it's not going to stop us from here, we have another game to focus on."
She said that the coaches preached defense during their practice the day before the game.
"We told them we need them to defend really hard from the back," Faamau-Samuelu explained, "and they did exactly what we practiced."
Our men's soccer team meanwhile went down to Fiji, 9-0.
Our women's beach volleyballers have also advanced to the medal rounds being undefeated since the start of competition.
The men's team has lost one match but are still in medal contention.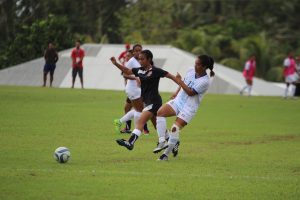 Our golfers did not perform so well on the opening day yesterday.

Kim Tolmie Brester shot a score of 85 and finished in 27th place, Moe Hardman with a 90 and Amelie Chen with a score of 91 finished in 34th and 36th respectively while Tupito Gadalla is in 38th with a score of 92.

For the male golfers, Tuli Fruean with a score of 79 finished in 35th place, Pene Gillet and Al Hollister both had scores of 84 and are placed 45th, while Polo Fruean with an 85 score is placed 48th.

The golfers are hoping to do better today.

Tags: