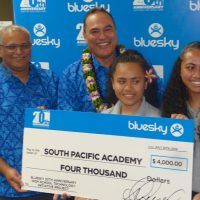 Twenty years ago today, Bluesky opened for business becoming the territory's first commercial telecommunications company.
To mark its 20th birthday BlueSky is giving back to the community.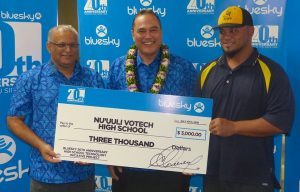 Today the company awarded $20,000 to high schools to finance STEM education projects.
BlueSky CEO Toleafoa Tiafau Douglas Creevey said there is a high demand for people with technology skills and there is always a place at Bluesky for young people who study in this field.
Play Audio
Customer Service Manager Sherry Sele said that by June 20th, Bluesky received 7 grant applications for  high school technology-based initiatives.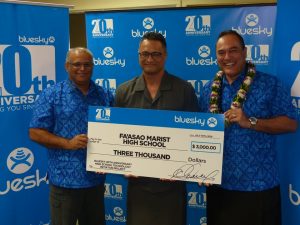 And all seven schools received a portion of the $20,000 based on scores and evaluation of their projects.
* Pacific Horizons received $4,000 to assist with their Robotics Program;
* South Pacific Academy received $4,000 to purchase a printer and digital camera for their Student Center;
* Fa'asao Marist received $3,000 to purchase equipment for their newly renovated Science Lab;
* Nuuuli Voc-Tech received $3,000 to purchase computers for their Special Ed Program;
* Samoana High School received $3,000 to buy equipment for the production of awareness programs on environmental protection and pollution;
* Fagaitua High School's Football Team received $1500 for an i-Zone camera to record players for scouting purposes;
* Tafuna High School received$1500 for security cameras.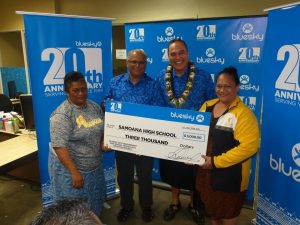 Attorney General Talauega Eleasalo Ale spoke on behalf of ASG and Fa'asao Marist High School Alumni to congratulate and thank BlueSky.
Play Audio
BkueSky is also sponsoring a 20th Birthday summer bash later this month.

Tags: