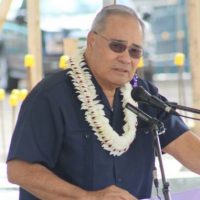 The Governor's Office has confirmed that Governor Lolo Moliga will be returning home on tonight's Hawaiian Air.
Chief of Staff Fiu Johnny Saelua told KHJ News this afternoon that its true Governor Lolo will be arriving this evening.
Yesterday Senate President Pro Tem Nuanuaolefeagaiga Saoluaga Nua said during a discussion concerning Governor Lolo's health, that he had a note on his desk saying that the governor would be returning home tonight.
The discussion was prompted by a request from Senator Satele Galu Satele for a written report concerning the governor's health to be provided to the Senate.
Responding to follow up questions this morning concerning his request, Satele told KHJ News that what he really wants to know is whether the governor is physically fit to continue as the territory's chief executive.
According to the Tuala-tai senator, from what he's learned, the governor now requires dialysis. And if that's the case, a medical determination is needed to ascertain if he's fit to continue in the role of governor.
And Satele pointed out that there's procedures for the Fono to take in making such a determination and taking appropriate action if the governor is incapable of continuing in his elected position.
Meanwhile Acting Governor Lemanu Peleti Mauga, who has steered ASG since Governor Lolo left in early February, except for two brief absences, issued a memo to the cabinet today stating: "It is most fitting and appropriate that we take to our knees and raise our voices in prayer thanking God for the purity of His love, His perpetual goodness and His never ending love for all of us especially restoring our Governor's health and his continued gift of life so Governor Lolo Moliga can finish God's plan for him to complete.
"Accordingly, a Prayer Service will be held on Friday, July 12, at 9 am at the Faga'alu CCCAS Church. I am therefore calling on all of you to please join us in this Prayer Service so we can collectively thank God through our prayers for His generosity and kindness channeled through doctors, nurses and healthcare providers who had a hand in our governor's recovery, renewed vitality, new leash on life and rekindled spirit."