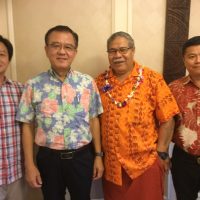 The Director General of the Taipei Economic and Cultural Commission, Mr. Michael Tseng, is in the territory to follow up on possible economic cooperation ventures with American Samoa.
His visit is a follow up to the visit by Director of Agriculture Filifaatali Mike Fuiava as part of a US trade delegation to Taiwan in April.
The trade mission, led by the US Department of Agriculture's Foreign Agricultural Service (FAS) Administrator Ken Isley, engaged in business meetings, briefings and onsite visits to gain firsthand information about the Taiwan market.
Mr. Tseng arrived last Thursday and has had a busy schedule of meetings before he leaves tonight.
He paid a courtesy visit to Acting Governor Lemanu Peleti Mauga, held discussions with the director of Marine and Wildlife Resources, director of Agriculture, visited with Taiwanese nationals living in the territory, the fishing community and met with Congresswoman Aumua Amata.
Mr. Tseng, who is based in Honolulu, is assessing possible areas of cooperation in the agriculture, fisheries and other business fields in the territory.
Photo: Mr Michael Tseng, second from left with Director of Agriculture Filifaatali and Ke-Chen Yang, Fisheries Affairs Officer in American Samoa.