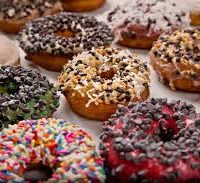 Forsgren Limited continues to expand its business base.
The owners of the Laufou Shopping Center have almost completed construction of a new business location.
It's a doughnut shop, an eastside franchise called Fractured Prune.
The patriarch of Forsgren Ltd., Mr. Anders Forsgren, said the doughnut store is tentatively set to open in September.
The store building, located where the Laufou playground used to be, between Forsgren Store and Blue Sky, is about 80 percent completed.
Mr. Forsgren said the Fractured Prune is the baby of his son Aaron Forsgren and his wife Cindy.
Aaron and Terry Tofaeono, General Manager of Forsgren's, will attend training with Fractured Prune before the store opens.
The Fractured Prune Doughnut website states that it's a specialty shop for doughnuts, which has been a landmark of Ocean City, Maryland since 1976.
"Our doughnuts come out hot and crispy on the outside and light and moist on the inside. We then take the doughnuts and dip them in any one of our homemade glazes of your choice which you can top with an assortment of delectable toppings."