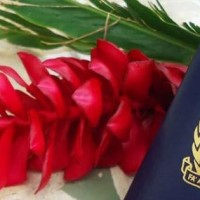 During a status hearing of two defendants last Friday in District Court, Judge Elvis Patea said that the longer it takes to process travel documents for the men, the longer they will remain in custody.   He was commenting during the status hearing of Valentino Sam Chong and Keneti Filisi.
Samoa News reports that the prosecutor, Assistant Attorney General Jason Mitchell told the judge, that they are working with family members of the men and the Samoa Consulate on travel documents for the two before they are released this week.
The court was informed that the two have return airline tickets to Samoa.
Assistant Public Defender Anna Whiles said Filisi is set to return to Samoa on Thursday while Sam Chong was still waiting for his travel documents.
Whiles expressed concern that Sam Chong has been in custody since his initial appearance in December 2018.
Judge Patea said both sides have to work together to make sure the pair have their travel documents ready.
Sam Chong is convicted of public peace disturbance and one of the conditions of his sentence is to depart the territory and not return for the duration of his 24-month probation.
He entered the territory on June 30, 2018 and has been here since.
Filisi was convicted of third degree assault and was also ordered to depart and not return for 24 months which is his probation term.  His immigration ID card expired in 2014.