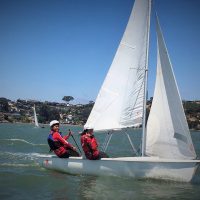 This past week, American Samoa sailors began an advanced summer sailing program in San Francisco Harbor.
Sailors of the Sailing Association of American Samoa are well versed in Optimist and Laser sailboats, which are both single handed dinghies.
In San Francisco, these sailors had the opportunity to sail double handed dinghies for the first time.
The oldest sailor in attendance, Victor Chen, said, "I am grateful that my sisters and I learned how to sail Opti and Laser in American Samoa. It made the transition to this more technical boat much easier. The coach actually designated us as the skippers and I think that we are doing well in the group."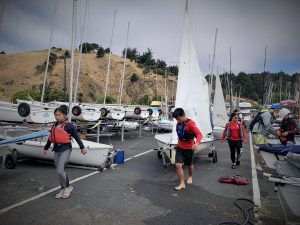 These sailors are also learning advanced sailing techniques like hiking out on a trapeze and flying the downwind spinnaker sail.
After successfully sailing Optimist, Laser, and now 420's and FJ's over the last three and a half year progression, we are pleased to see that these sailors are preforming at a high level of competency and they have a strong foundation no matter what path they choose, whether it be Collegiate, Olympic, Ocean Racing and Cruising.
The Sailing Association of American Samoa currently offers programs in learn-to-sail Optimist and Laser as well as competitive Optimist and Laser.