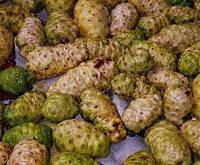 Nonu juice exports are now the top foreign exchange earner for Samoa after topping exports for 2018.
Samoa Observer reports that Central Bank figures show the juice used for medicinal purposes has overtaken fish as the country's top export.
Nonu now accounts for nearly half the export earnings peaking at 42.1 percent of exports.
Nonu has become a much sought-after commodity after the Hawaiian market was devastated by volcanic activity and is recovering much slower than anticipated.
Prices are on the rise too, which is welcomed by local exporters and the Ministry of Agriculture.
The ministry says farmers have taken it upon themselves to improve the industry.
"Market demand is very high and the farmers have been picking on a daily basis," says the report.
But it also warns of the threat of bigger Asian countries moving into the nonu export industry.
"These countries have good processing capacity and the ability to reduce unit cost of raw materials under their plantation mode of production," said MAF.