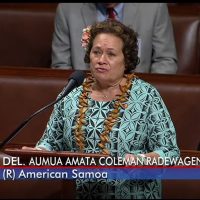 The House Natural Resources Committee is holding a hearing this week on Congresswoman Aumua Amata's bill to streamline citizenship for U.S. nationals from American Samoa who choose to convert their status to U.S. citizenship.
The bill does three things: 1) American Samoans will no longer have to move off island to become citizens; 2) they will no longer have to take the citizenship test; and 3) A new hardship waiver of the cost of the application fee will be available.
Congresswoman Aumua said this week's hearing is the first official action taken on the bill since she introduced it in February.  She stressed that citizenship is a choice for individuals who want to take that option and will not affect the territory as a whole.
Play Audio