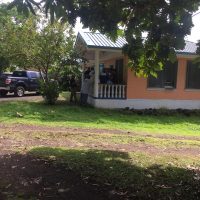 The immigration sponsor for several Indian men found to have overstayed their entry permits is being given a chance to voluntarily return to the territory.
That's according to the Department of Homeland Security Director Samana Semo Veavea.  He says if the sponsor doesn't return, the Department of Homeland Security will request that the Attorney General's Office to issue a warrant for his arrest and possible extradition to the territory.
The sponsor has been in contact with the DHS and he is believed to be in California.
A week ago, DHS and the Immigration Division rounded up seven Indian men, sponsored by the same individual who is from Leone.
The men told authorities they paid immigration bonds to the sponsor with the understanding that he will fix their papers so they can remain in American Samoa; however, this did not happen.
They came here on 30 day entry permits.
They have surrendered their passports and are to return home as soon as their tickets are paid. Samana says this is the responsibility of the sponsor and they are eager for the sponsor's return to the territory.