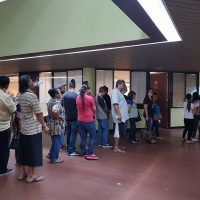 The Attorney General's Office is proposing increases in entry permit fees for foreigners, applications for permanent residency and extending the validity of American Samoa Certificates of Identity from six months to one year and increasing the fee for CIs from $50 to $100.
The Attorney General's Office is publicizing for comments on the proposed amendments via the American Samoa Administrative Code and copies of the proposed changes are available from the Attorney General's Office. The changes are intended to go into effect August 1.
Among the proposed fees, a permanent residency application will be $100.
Instead of renewal every three years, a permanent residency ID card would be for four years.
If a permanent resident fails to renew their ID card within 60 days of expiration another $100 will be charged.
ID cards expired beyond one year are invalid and may not be renewed.  The individual holding the expired card will be considered an overstayer and subject to immediate deportation.
Regular one year immigration ID cards will cost $75 for renewal. Right now renewal of a one year ID is $30.
Another rule change for permanent residents is that once they are granted permanent resident status their posted bond becomes non refundable and may be released to the General Fund of ASG.
For entry permits,  the cost of a 30- day permit will be $50, up from $40.  Group entry permits will cost $200 for groups of 10  to 20 persons,  $300 for groups of 21 to 30 and $400 for 51 to 100.
For larger groups the fee will be $500 plus $5 for each additional person over 200.
A multiple entry permit is available for business travelers at the cost of $500 for one year.
This entitles the business traveler a stay of 30 days for each trip.  This permit would also available to crews of fishing vessels that conduct business in American Samoa.
A 14 -day pass would be made available to citizens of Samoa to enter the territory for cultural, religious, family, sports or other traditional activities at the cost of $10 per person per trip. Each traveler must meet entry requirements and must present a roundtrip ticket.
One fee that would drop under the proposed changes is the cost of  obtaining authorization to enter the territory for US citizens,  US nationals or American Samoans arriving here without proper  travel documents.  Currently this fee is $50 but under the proposed rule it would drop to $20.
For the American Samoa Entry Permit Waiver Program citizens on countries on the US list of Visa Waiver countries may enter American Samoa without obtaining an entry permit for stays of 30 days or less.  The AG shall establish the procedures for travel under the entry permit waiver program.
Travelers entering American Samoa to board fishing vessels or other commercial vessels are not eligible for this waiver program.
American Samoa Certificates of Identity would be valid for one year instead of the current six months and the fee would be $100.  An expedited fee of $25 will be added if the CI application is submitted in less than three days or 72 hours before travel.
A copy of the proposed amendments may be picked up at the Office of the Attorney General at the A.P. Lutali Executive Office Building, or may be downloaded from the AG's Office  website legalaffairs.as.gov/notices-downloads
Interested persons may submit written comments on the proposed amendments to the Office of the Attorney General on or before July 17, 2019.