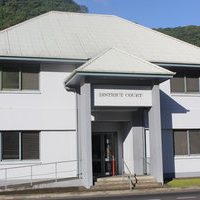 The attorney for Jonathan Fanene, Marcellus Tala Uiagalelei, says he and his client are concerned regarding the leaking of information of Fanene's case to the public.
KHJ News was seeking comment from Uiagalelei on the rally held yesterday across the District Court focusing on domestic violence and billed as "Justice for Lori," Fanene's wife.
The defense attorney said his client has no comment regarding the rally.  But he said, "We are concerned regarding the leaking of information of this case to the public especially given the small jury pool available."
Uiagalelei didn't specify what he was referring to by "leaking of information."
"My client intends to try this case in a  court of law, not on the streets or the internet.  Mr Fanene deserves his day in court and I hope the public will respect that right."
Yesterday Fanene waived his rights to a probable cause hearing in District Court and his case has now been bound over to High Court where he will be arrainged tomorrow morning.
He faces 18 charges including assault, kidnapping, felonious restraint and possession of prohibited and unlicensed weapons.
Fanene is out on bail of $100,000.