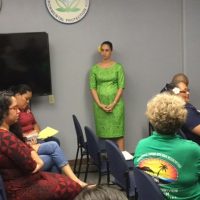 One of the reactions from members of the Chamber of Commerce to the proposed ban on styrofoam containers is that the proposed fine for a first time offence was too low.
A bill which is in discussion phase at this time proposes to ban the importation, sale or distribution of polystryrene foam containers to consumers in American Samoa.
It proposes a fine of $50 for a first offence.
During a presentation by the American Samoa Environmental Protection Agency on the proposal last week, a business owner felt that the $50 fee may be too low.
ASEPA attorney Marian McGuire gave this comment in response.
Play Audiostyrofoam-marian
Items which would be exempted from the ban are styrpofoam containers for imported prepackaged food, trays used for raw meat, poultry, fish or frozen foods and polystyrene foam coolers and ice chests intended for reuse.