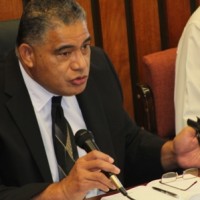 The law requiring applicants for jobs in the American Samoa Government to be drug tested didn't identify a funding source for the tests.
But the tests will be carried out and the Department of Health is footing the bill,
This was confirmed by Director of Health Motusa Tuileama Nua who told KHJ News that standard operating procedures for the drug tests need to be drawn up first.
He said a task force made up of attorneys, public health officials, Governor's Office representatives as well as staff of the Department of Human Resources, is drawing up the SOP for submission to Acting Governor Lemanu Peleti Mauga for approval when completed.
According to Motusa the first group to undergo the tests are applicants for the Department of Public Safety Police Academy.  He said the Academy applicants will be given priority for the drug tests before all other ASG job applicants.
Efforts to obtain comment from Commissioner of Public Safety Lei Sonny Thompson on the status of the Police Academy were not successful.
The Health Director said DOH is paying for the drug tests but if someone who tests positive wants to challenge the outcome they would have to pay for the subsequent test.
At a cabinet meeting last month Assistant Attorney General Emmanuel Tupua explained ASG's drug and alcohol policy which gives guidelines on how the tests are administered.
Under the policy, all employees entering the workplace may be tested by the Department of Health or LBJ Tropical Medical Center.
The use of any form of unauthorized drugs or alcohol on the job or the arrival of any person at the workplace under the influence of any form of drug or alcohol will be a cause for disciplinary action, up to and including, if appropriate, dismissal.