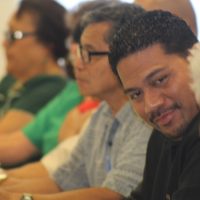 The criminal case against former cabinet member Jonathan Fanene has been bound over to High Court after he waived his rights to a probable cause hearing in District Court this morning.
Fanene, removed last week as Director of Youth and Women Affairs, faces eight felony charges and five misdemeanor counts for allegedly assaulting his wife and sister, holding his wife against her will and for possession of unlicensed and prohibited firearms.
Fanene's attorney, Marcellus Uiagalelei, informed District Court Judge Elvis Patea that his client waives his right to a preliminary examination.
The judge asked Fanene if he understood that he had a right to a hearing to examine if there is probable cause supporting the charges against him. Fanene replied yes.
When asked if he was forced into waiving this right, the defendant said no.
Judge Patea announced that the defendant has voluntarily and intelligently waived his rights to a preliminary examination and his case is now bound over to the High Court. He will be arraigned on Wednesday.
The judge ordered that Fanene must comply with any protective orders issued by the Family, Drug and Alcohol Court.
Fanene, who is out on $100,000 bail, was ordered to sign in with his attorney on Tuesdays and Fridays in lieu of surrendering his passport, which his lawyer said could not be located in their house.
He said his client suspects that the passport was removed by his wife along with other items.