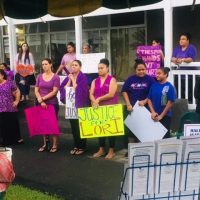 Across from the District Court, a small crowd of women, men and children gathered at the Fagatogo Square at dawn in a rally billed as "Justice for Lori," Fanene's wife.
About 50 people attended wearing purple, the color of domestic violence.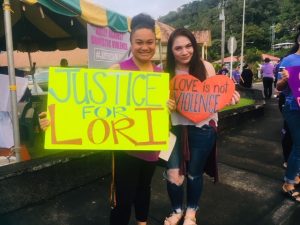 Prayers were offered by Rev. Iasepi Ulu, followed by remarks from the rally organizer Tanya Ma'o-Aab and Congresswoman Aumua Amata.
Other speakers were Luisa and Ken Kuaea of the Kuaea Group and Mona Uli of the American Samoa Alliance Against Domestic and Sexual Abuse.
Ma'o-Aab, a former Child Protective Service investigator with the State of Arizona, said while the rally seeks justice for Lori Fanene, this was for all victims of domestic violence.
Play Audio
Congresswoman Aumua Amata said domestic violence is contrary to the faa Samoa tenets of caring and loving.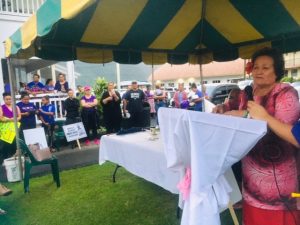 Play Audio
Photos: Laosamoa Vitolio