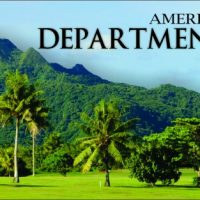 Based on the recommendation of the  Commerce Commission, the Department of Commerce has suspended the business license of TOA's taxi stand in Tafuna.
The Commerce Commission met May 8 to address complaints from the public regarding increased taxi fares charged by the taxi stand which is headed by Tuitama'i Emanuel Ulberg.
A May 13th letter from Acting Director of Commerce Sandra Neria Lutu addressed to Ulberg says, "You have previously been warned by Vice Chairman of the Commission Vailiuama Steve Leasiolagi and DPS Officer Vaipuna about discontinuing unapproved rates.  When you met with them on May 3 they also advised you that there is a process to follow for raising taxi rates.  Since this meeting however, you have continued to use your own rates in violation of the law."
Neria Lutu said that the evidence was 20+ complaints about TOA's fares received by DOC.
She also noted that there have been previous complaints against TOA taxi stand dating as far back as 2013 and 2016 for not complying with taxi fare rates.
The Acting Director explained that it's the responsibility of DOC to issue and oversee compliance with business license regulations.  And TOA's continued violation of the law represents a threat to the public welfare necessitating this emergency action.  The suspension is effective immediately and will be in effect for 120 days.
A copy of the letter of suspension was delivered to the TOA taxi stand yesterday.
TOA taxi stand was told that while its business license is suspended it may not continue business operations.  And further that operating without a valid business license is a Class B misdemeanor.
Ulberg was informed that DOC will institute business license revocation proceedings in accordance with the law.
TOA was given a hearing date of September 3 at 9am in the DOC Conference room. TOA is allowed to have witnesses and introduce evidence in its favor.  It may also submit evidence of corrective action for consideration prior to the hearing.