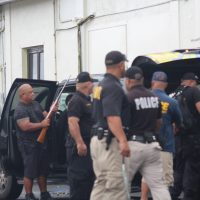 Police conducted an early morning raid at Logotala Hill today, which blocked off part of the highay near the intersection at Ililii and Vaitogi.
Logotala Hill has been named in a few court affidavits for drug cases as a distribution location for drugs mainly crystal methamphetamine.
KHJ News understands that the raid took place at 5 this morning and lasted nearly three hours.
Around 8:20 a convoy of DPS units was seen heading from Vaitogi/Iliili towards the Tafuna substation.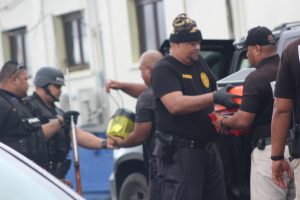 Seven individuals are understood to have been taken in for questioning at the substation.
KHJ News saw officers of the Vice and Narcotics Division carrying rifles and what looked like containers or jars with cash from police vehicles into the substation.
A drug sniffing canine was seen being let out of a cage that was at the back of an SUV among the DPS vehicles which were in the convoy.