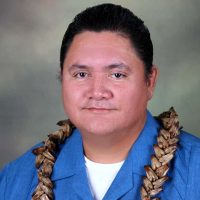 The American Samoa Community College (ASCC) will hold its 70th Commencement Ceremony this Friday, May 17th, beginning at 10 a.m. in the auditorium of the Multi-Purpose Center.
Keynoting the graduation ceremony is Leone High School Principal Leo'o Dr. Patrick Danielson.
Born and raised in the village of Futiga, for all of his professional life Dr. Danielson has lived and worked in American Samoa, serving his family, village council and church organizations.
A graduate of Lupelele Elementary School and Marist High School, he attended ASCC, earning an Associate of Arts degree.
In 2000, he was accepted into a Cohort Program at the University of Hawaii at Manoa, graduating in 2002 with a Bachelor's in Education degree.
He next earned his Master's in Education focusing in Curriculum and Instruction Studies in 2005, also from U.H. Manoa.
His most recent accomplishment was graduating from Argosy University with a Doctoral degree in Teaching and Learning, which he began in 2013 and completed in 2015.
Today, Dr. Danielson is Principal for Leone High School.
He said "Teaching was never my field of interest,"
"However, because it was the only available opportunity our government had to offer at the start of my career, it forced me to become one. I am thankful that I made that decision. I am successful because I made the right choice."
Placing great importance on his spiritual life, Dr. Danielson describes himself as "a Catholic at heart" and for most of his life has served the Catholic Parish in Futiga as a Youth Organization Director, Music Director for Futiga Catholic Choir, and as Treasure Executive Officer for the Futiga Catholic Parish.
He also serves as the Chairman of the Board of Trustee for the Fatu O Aiga Montessori School.
His service as an educator and church member reflects his deep concern for society and especially youth. "We face many issues with our children today," he observed. "When I was growing up, we did not have the resources that our children have now to help with their education and success in life. However, it seems like the more advanced the technology and gadgets become, the worst their behavior becomes, which causes them to miss opportunities in life. This is one thing we need to help our children with."
A happily married father of four and the head of a household that includes his parents, the Leone principal expressed the belief that the key to addressing our social challenges lies in the strengthening family bonds and cultural values.
"Our culture plays a major role in our family," he said. "We believe in living together, sharing, respecting and protecting each other so we can survive in this life. We believe that raising our children is the responsibility of the family as a whole, both the immediate and the extended family. As an educator, I continue to promote this important belief to our people of American Samoa."
With his impassioned views on education, society and culture, Dr. Danielson's address before the ASCC graduates promises to be a thought-provoking one.
"As an ASCC graduate who has gone on to earn his place as a prominent voice in education in American Samoa, we're proud to ask Dr. Danielson to speak at our Commencement," said ASCC Dean of Student Services Dr. Emilia Le'i. "We have a speaker very concerned with our Territory's future, as well as the graduates who will help shape that future, so I'm sure Dr. Danielson's insights will be of great interest."