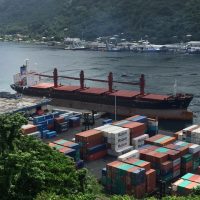 The American Samoa Government is being paid by the US Government for having the North Korean freighter Wise Honest here.  This has been confirmed by ASG and US Coast Guard officials who spoke to KHJ News today on condition of anonymity.
However no information could be obtained on how much the actual payment is.
KHJ News has also received information that the Wise Honest could be here until December.
Director of Homeland Security Samana Semo Ve'ave'a said that this information was given at briefings with federal officials last week.
He said if that timetable remains  there's concern that the freighter will impose a risk if a cyclone was to hit as it would be here during the cyclone season.
Coast Guard Public Affairs Officer Amanda Wyrick told KHJ News that the length of time  for the vessel to remain in American Samoa is really dependent on the results of the Dept of Justice investigation.
Today the vessel was still anchored at the main dock in Fagatogo but Coast Guard officials said that it should be moved to anchor somewhere in the harbor if not later today then tomorrow.
Coast Guard Lt, Al Blaisdell, head of the Local Coast Guard Detachment said that there's 24/7 security for the vessel while in port and everything is being done to avoid any hindrance to the movement of vessels in Pago Pago Harbor.
He said that this operation provides an opportunity for local law enforcement to receive training on different scenarios.
He added that the US Government's partnership with ASG is really working out well on the Wise Honest mission.