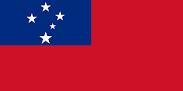 A candidate in the recent special election for a vacant Parliamentary seat has been banished from his village for running.
Lema'i Faioso Sione contested the vacant Fa'asaleleaga No. 2 seat as a candidate for the Samoa First Political Party, polling less than 20 votes.
He was initially fined 100 sows or $5,000 talā for allegedly defying a village matai council decision to support a different candidate.
When he failed to pay the fine last Monday, the council decided to banish him from his village of Fogapoa.
Fifty-five year old Lema'i was unapologetic when he spoke with Samoa Observer saying that he was exercising his right to run in the by-election.
"I was exercising my right as an individual to run as a candidate and I do not agree with the decision by the village council to banish me for doing that," he said.
He told the newspaper he was not keen to take the matter further for fear of attracting further sanctions from the village council.