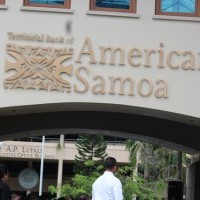 The Territorial Bank of American Samoa's total assets grew from $14.5 million in 2017 to $28.8 million in 2018, according to the bank's financial statement for the year ended September 30, 2018 and 2017.
When it opened in 2016, TBAS assets were valued at $3,091,902.
For 2018, cash and cash equivalents totaled $7.9 million:
Restricted investments – $3.5 million;
Loans and interest receivables, net – $9.7 million;
Property and equipment, net – $2.2 million;
Intangible assets, net – $319,312; and
Others – $5,043,765.
Liabilities on the other hand totaled $17.2 million:
Deposit liabilities – $17.2 million; and
Accounts payable and accrued liabilities – $32,521.
The bank listed its total net position for 2018 at $11.6 million. TBAS' net position in 2017 was $11,215,923.
TBAS is to keep $3.5 million in US Treasury securities pledged to the Federal Reserve Bank as one of the requirements in obtaining a routing and transit number to provide all the desired banking services for the territory.
In February 2017, TBAS entered into a strategic relationship with Dedicated Funding to originate commercial equipment loans classified as held for sale.
In 2018, TBAS purchased over $14 million in commercial loans and sold almost $12 million.  In order to effectively fund these loans, TBAS has maintained $3.5 million on deposit with Dedicated Funding.
TBAS has funded new consumer loans of almost $2.5 million and purchased $3 million in auto loans in American Samoa through a loan purchase agreement. This program in intended to continue each quarter.
The bank is in the process of terminating the current agreement with Coast to Coast, who provided cash debit card and ATM services. The bank has engaged other vendors to provide these services.
Other highlights of the bank's financial statement in May of last year, ASG contributed and deeded to TBAS as additional capital, an additional $1.8 million of property.
These consist mainly of improvements, furniture, fixtures and equipment in the Centennial Building as well as two residential housing units that were donated by the Bank of  Hawaii to ASG.
The statement says that TBAS has written off only $32,395 of loans in 2018, of which $11,994 has been recovered.
TBAS' loan portfolio for 2018 totaled $9.7 million:
Unsecured direct consumer loans – $1.1 million;
Secured direct consumer loans – $294,916;
Purchased vehicle loans – $3.7 million;
Purchased commercial equipment loans -$4.7 million; and
Deposit overdraft – $29,213.
The allowance for loan losses was $190,995.
At September 30, 2018 and 2017, the bank had direct loans with outstanding balances of $48,193 and $47,994 respectively to employees of the bank. These loans were made under similar terms and conditions as exist with other borrowers.
Officers and board members are not eligible to borrow from the bank.
As of September 30, 2018 and 2017, deposit liabilities include $12.7 million and $1,019,071 respectively from ASG and $182,562 and $32,102, respectively, from Board members, officers and employees of the bank.