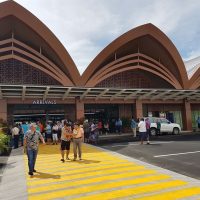 A 49 year-old American woman is facing drugs charges in Samoa after Customs officers discovered illicit drugs, in this case marijuana, in her luggage upon arrival at Faleolo International Airport.
The Samoa Observer reports that the incident was confirmed in a statement from the Comptroller of Customs, Matafeo Avalisa Viali-Fautuali'i.
"An American woman of 49 years will be facing charges on prohibited importation iunder the Customs Act 2014," said Matafeo.
She credited the continuing collaborative operation between her ministry and the Samoa Police Service for the interception of the drugs last Thursday, April 11 at the airport.
The woman was a passenger on Air New Zealand from Auckland, New Zealand.
There has been no comment yet from Samoa Police about the incident.