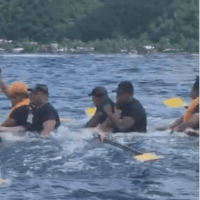 The results of the 2019 Flag Day Fautasi Race held Saturday have been added to the history booksm, along with calls to make the safety of crew members a priority in future races.
The captain of Manu'atele's Matasaua,  Malaepule Fuega Moliga expressed utter disappointment with the Race Committee at a meeting with captains following Saturday's race.
He said the committee showed complete disregard for the safety of crew members of fautasi which were submerged or capsized out in the open sea. He said thankfully no one was hurt but a life could have been lost which would have marred the Flag Day celebration.
Malaepule said his boat the Matasaua took on water before the race started and there was no help  at all.  He said boats just passed them by and by the time help arrived some of their crew members had floated close to the airport.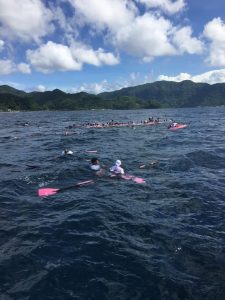 A Matasaua crew member, Kidman Sea, told KHJ News it was a scary experience out there.
A rower for four years, he said their fautasi filled up with water before the race started and it took almost 3 hours before they were rescued.
He said a National Park boat came to them and they asked if they can hop on but the answer was no.
A second boat that came by also said they couldn't take them.
Several other motor boats passed them, without offering any assistance.  "They didn't save us until after the race," said Sea.
One of the Matasaua crew members, Galo Tuiolosega, is reported to have suffered internal bleeding.
Sea said a race is worthless if it ends in a tragedy.
He gave a shout out to the Aeto and Fono crew members who were also in the same situation as them on Saturday.
The Aeto Captain Rev. Patolo Mageo also expressed disappointment during the captains meeting . he said he thought after the committee saw what was happening to their fautasi that they would make a decision to call off the race.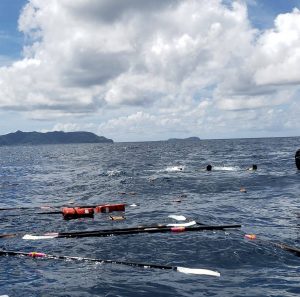 Acting Governor Lemanu Peleti Mauga and Secretary of Samoan Affairs Mauga Tasi Asuega offered apologies and stated that nothing is more important than the safety of the rowers. They thanked the captains and villages whose fautasi were unable to race.
Lemanu made official the results of Saturday's race,  1 Paepaeulupoo from Aua, 2nd Manulele Tausala from Nuuuli,  3rd Fuao from Vatia.  4th, Taema from Leone,  5 Iseula o le Moana from Fagatogo,  6, Fealofani Samoa from Fagasa and 7th Fetu o le Afiafi from Fagaaalu.
There was agreement among the captains that the three fautasi that were able to race should receive prize money.
There was also a suggestion that they have a friendly race today however the suggestion was not supported.
The Committee has not disclosed what the prizes for the fautasi race will be.