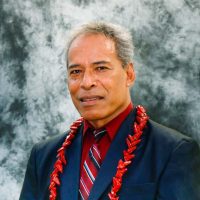 The vice chancellor of the National University of Samoa Professor Fui Asofou So'o has been suspended by cabinet pending the outcome of an internal  investigation into the university.
The government has also placed on special leave the Deputy Vice Chancellor (academic and research) Peseta Desmond Lee Hang and Deputy Vice Chancellor (Corporate Services) Maugaoali'i Ufagalilo Mualia.
The Samoa Observer quotes the Minister of Education Sports and Culture Loau Keneti Sio saying that cabinet's decision is based on the recommendation of the NUS Council.
He said allegations against the Vice Chancellor and two Deputy Vice Chancellors warrant an internal investigation "to clear up the air."
According to the minister there were complaints from the public about some students who should have graduated and those that shouldn't have and he hopes the investigation will help clarify what exactly happened.
The NUS Council forwarded its recommendation to the cabinet last week before the NUS graduation and cabinet acted on the recommendation Wednesday.
The decision to suspend the vice chancellor and the two deputy vice chancellors is effective immeditately.