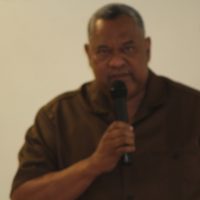 Acting Governor Lemanu Peleti Mauga gave a comprehensive report on Governor Lolo Moliga's health at a cabinet meeting this morning.
And there was good news to report. Governor Lolo has awoken after several days following surgery last Wednesday in Seattle.
He is not at full strength, but is making a slow and gradual recovery.
Lemanu said he last talked on the phone with Governor Lolo this past Monday before undergoing surgery on Wednesday. Since then, he has been communicating with the First Lady almost daily.
Lemanu said that the governor was never in a coma.
Following surgery last Wednesday up to this past Monday, the governor was asleep.  In his conversation with the First Lady on Monday, she said that the governor was beginning to move his fingers and would respond when his fingers are pressed.
On Tuesday, support medical equipment was  removed. He opened his eyes and was cognizant and began speaking but he was not able to carry a conversation for long.
By yesterday, the governor was able to sit up and be assisted out of his hospital bed. He has also started therapy.
Acting Governor Lemanu spoke in Samoan about the governor's condition and gave a brief summary in English for the non-Samoan speaking Cabinet members.
Play AudioLemanu-on-Lolos-health-
Lemanu expressed appreciation to the  public and the cabinet for their prayers for the governor and asked that they continue to offer prayers for the governor to fully regain good health.
Lemanu also apologized to the territory and cabinet for not giving information about the governor's health earlier.
He said in his personal opinion, details of the governor's illness is the prerogative of the First Lady, their children and family.
Lemanu said while he knows the nature of the governor's illness having been briefed by Lolo before he underwent  surgery, he feels it's not for him to discuss the governor's medical condition, that this was up to the First Lady and family.
The acting governor gave his opinion about suggestions that a government delegation visit the governor while he's hospitalized in Seattle.
He said knowing the governor's nature, he would be asking questions about government operations when he should be resting and focus on getting well.  Also, if a government delegation visits the governor, there's no escaping reciprocation as the culture dictates from the governor and his family.