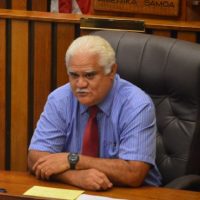 Treasurer Ueligitone Tonumaipe'a faces the Senate Budget and Appropriations Committee tomorrow to answer questions about some pending issues and also the administration's new bill increasing the petroleum storage fees to repay the 2018 bond series.
Before the Fono had a month long recess, senators wanted to question Tonumaipe'a regarding the nearly $4 million surplus for FY2018 and close to $800,000 for FY2017 as reported by the governor in his State of the Territory address.
They were anxious to find out how the revenues from the latest bond sale in December would be used and how those bonds will be repaid.
But the governor informed the Senate President then that the Treasurer was tied up with auditors from off island and to excuse him and other ASG directors until a later time.
The Chairman of the Budget and Appropriations Committee Senator Magalei Logovii told KHJ News yesterday that the Treasurer is now set to appear before the committee at 8:30 tomorrow morning.
And since the Treasurer is also chairman of the American Samoa Economic Development Authority, he will answer questions about the new administration bill to repay the 2018 bond series.
Senator Nuanuaolefeagaiga Saoluaga Nua was one of the most vocal senators raising questions about the reported surplus for ASG when vendors are complaining about not being paid, and entities like the hospital and the college have not received their due subsidies.
He also questioned how the $52 million raised from the 2018 Bond Series has been spent.  Nuanuaolefeagaiga believes the administration should come back to the Fono for approval for spending of the bond proceeds.
Nua told KHJ news that he wants to see actual proof to show how the money was spent, not just verbal statements.
The breakdown of the 2018 bond revenues provided in ASEDA reports are $15.3 million for the new Fono building, $28. 3 million to the American Samoa Telecommunications Authority for the Hawaiki Cable, $4.6 million for the Debt Service Account and $1.4 million for bond issuance costs.