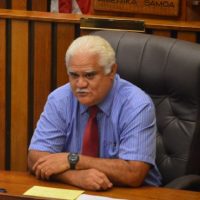 There's been another delay in the planned Senate hearing with Treasurer Ueligitone Tonumaipe'a, which was set for tomorrow.
The Senate has accepted a request from Acting Governor Lemanu Peleti Mauga to delay the appearance of the Treasurer till next week.
The reason is because of a cabinet meeting tomorrow.
The Acting Governor wrote that "Ordinarily any request from the Legislaturw respecting appearances by executive branch agencies…would be honored without hesitancy given our joint commitment to transparency and collaboration between the two branches of government.
"In this instance I am humbly requesting to please delay the appearance of the ASEDA Board till next week as we had called a cabinet meeting before the letter was received regarding the Senate Budget Committee hearing tomorrow."
There was a strong reaction from Senator Nuanuaolefeagaiga Saoluaga Nua to the request.
In remarks on the Senate floor and in an interview with KHJ News, the Manu'a senator said this was a clear illustration that the executive branch does not place importance on the Legislature's wish.
He said when the Senate first requested a hearing with the Treasurer in January, the governor had asked to postpone the hearing until a later date.
Nuanuaolefeagaiga  said there was an understanding that when the Fono returned from their recess, the administration would provide the information that the Senate had asked for.  And the Treasurer would be available to testify.
Information that the Senate requested related to the reported surplus for Fiscal Years 2017 and 2018 and spending of the 2018 bond series and repayment.
Senator Nua told KHJ News that an issue which the Fono needs to address is a conflict in the bond law and the constitutional provision that the Fono approves all appropriations.
He said with the 2018 Bond Series, the administration is spending money without Fono approval.
He said while there was provision in the law for the first bonds that Fono approval was not necessary for subsequent bonds, it was not the intent of the Fono to pass a law that conflicts with the constitution.
Nua went as far as suggesting that the Fono has bent over backwards and given leeway to the administration but it appears that the executive branch is not showing the same respect to the Legislature.
Nevertheless he said out of respect, Senate President Gaoteote Palaie  and senators will grant Acting Governor Lemanu's request for a delay..
Chairman of the Senate Budget and Appropriations Committee Senator Magalei Logovii told KHJ News that they will give the Treasurer one week to compile all the requested information and they expect him to appear before the committee next Wednesday.