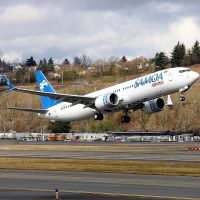 Samoa Airways is now taking its time in taking  delivery next month of a brand new 737 MAX 9 Boeing  aircraft.
Minister of Public Enterprises Lautafi Selafi Purcell told Newsline Samoa that while they were excited to have the aircraft here by April 15, he said, "We cannot afford to do that now."
His statement comes after an Ethiopia Airlines MAX 737 8 crashed over the weekend, killing all 157 passengers and crew on board.
Five months earlier, a Lions Air MAX 8 also crashed in Indonesia, killing all on board.
Newsline Samoa reports that the Minister shared his safety concerns about the aircraft with the chairman and chief executive of the national carrier in a meeting yesterday.
Lautafi said the Max 8 and 9 models are too close together for comfort, and they  want a firm assurance from Boeing as the manufacturer that the aircraft is as safe as it can be.
The Minister would prefer to wait for the investigation results of the crashes in Indonesia and Ethiopia before Samoa Airways takes delivery, but is unsure when that is possible.
Safety issues are a priority for the minister; the national carrier's board and management executives are already looking at contingency plans.
One option is to extend the lease on the 737-800 aircraft currently leased from Italia Airlines.
The minister declared, "We will not compromise safety with the early arrival of the aircraft."
He said if worse comes to worst, they may have to look elsewhere for another aircraft.
Samoa Airways plans to lease a second aircraft in August, a 737-800 model from Fiji Airways.
The neighboring airline is upgrading to the MAX model series, leaving behind a surplus of the 737-800 model.
Samoa Airways is looking to add new flying routes within the region, mainly between New Zealand and Australia.