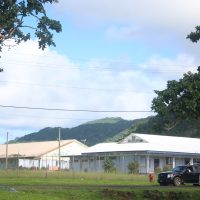 The wife of a detainee at the Territorial Correctional Facility is raising an alarm on conditions at the facility which warrant urgent action.
She said she visited her husband at TCF over the weekend and learned that there are sick prisoners in their holding cell for pre trial detainees, but the TCF main office refuses to take them to hospital for treatment.
The woman said from what her husband related, it appears that what the sick inmates have is contagious and the worry is that if not treated, it would spread to all of them.
The woman said she called EMS and asked if they could help but was told that there's nothing they can do unless they are informed by TCF.
She reached out to KHJ News with the information in the hope that something can be done because the lives of human beings are at stake.
KHJ News has forwarded the woman's email to Commissioner of Public Safety Le'i Sonny Thompson.
During a recent sentencing hearing in the High Court, inmates who walked out of the TCF to find food, claiming that for three days they were only given tea, told the court that when they are sick, the main office refuses to take them to the hospital.