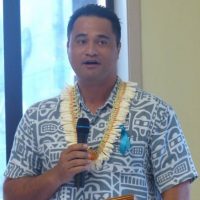 KHJ News reported yesterday about the dismissal of the government's case against the former Director of the American Samoa Government Employees Retirement Fund Luatua Filisouaina Taafua.
The dismissal occurred yesterday at a hearing of a motion by the government for another continuance for Luatua's trial which was set to start next Monday or in the alternative to dismiss the case without prejudice.
Judge Elvis Patea granted dismissal without prejudice .
Elaborating on the reasons for the government's motion, Attorney General Talauega Eleasalo Ale said, "The case has been dismissed without prejudice because key witnesses to the trial were not able to be here in time for the trial set for Monday; one witness is an off-island consultant and another is fighting cancer.
"Prior attempts to seek a short continuance to secure presence of these key witnesses were denied by the Court.
"However, we thank the Court for granting the dismissal without prejudice. This would give the government additional time review and refile the case anew".