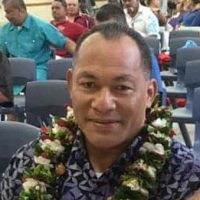 While attending the Climate Change Resiliency Summit this week, the Director General of the South Pacific Regional Environment Program (SPREP) has been discussing with local counterparts ways it can help American Samoa fully participate in regional environmental initiatives the territory has been ineligible for due to its political status.
Leota Kosimiti Latu says American Samoa is a full member of SPREP; however, it cannot fully benefit from funding and services that are available to independent Forum members.
He says one of the reasons he's attending this week's summit is to ensure SPREP has  greater engagement in American Samoa on environmental issues.
The head of SPREP said they've been asked to provide assistance with the Polynesian Leaders Group meeting which American Samoa is hosting this summer.
Play Audio